Urgent Care
DotHouse Health offers walk-in Urgent Care services 7 days a week. At Urgent Care, you can receive same-day treatments without an appointment for common illnesses or minor injuries that are not life-threatening. Reasons to come to Urgent Care include but are not limited to:
Coughs and colds
Earaches
Pink eye or conjunctivitis
Vomiting or diarrhea
Back pain, joint pain or muscle injuries
Sore throat
Allergies
Headaches
Fevers
Sinus and nasal congestion
Asthma symptoms or wheezing
Urinary tract infections
Minor lacerations
Rapid HIV/STD Testing

REMINDER: DotHouse Health has limited lab services on Sundays and Holidays.
The following tests are unable to be performed:
The following tests can be performed but results will not be available same day:
COVID, Flu, Strep tests

Pregnancy tests



Visits to Urgent Care are walk-in and services are provided on a first-come, first-serve basis. We aim to see patients as quickly as possible. Urgent Care is not an emergency facility, and you should call 911 or go to the nearest hospital for any life-threatening conditions.

UPDATE: Urgent Care will not have any walk-in COVID-19 testing available from August 11-28, 2023. Sorry for any inconvenience.

The Community COVID-19 Testing Unit at DotHouse has testing hours Monday - Friday from 8:00am - 12:00pm. All COVID-19 testing is located in our Urgent Care, to the right of the main entrance (through the patient parking lot).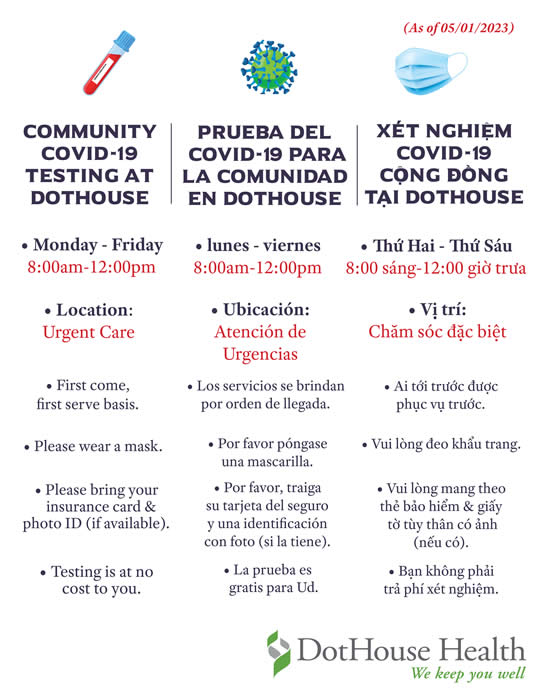 Department Hours:
Monday: 8:00am - 8:00pm
Tuesday: 8:00am - 8:00pm
Wednesday: 8:00am - 8:00pm
Thursday: 8:00am - 8:00pm
Friday: 8:00am - 4:00pm
Saturday: 8:30am - 2:00pm
Sunday: 9:00am - 12:00pm
FREQUENTLY ASKED QUESTIONS
Can I be seen if I do not have insurance?
If you do not have insurance, one of our Financial Counselors can work with you to enroll you in a program. We are able to see clients without insurance, but in that case, costs must be paid out of pocket.
Do you see children?
Yes. Patients under 18 years of age who require Urgent Care can be seen 7 days a week.
Can I be seen if I am not a DotHouse Health patient?
We are able to see non-DotHouse Health patients, provided that your insurance company allows you to be seen at outside facilities. Our financial aid and registration staff can work with you to identify eligibility.