Physical Therapy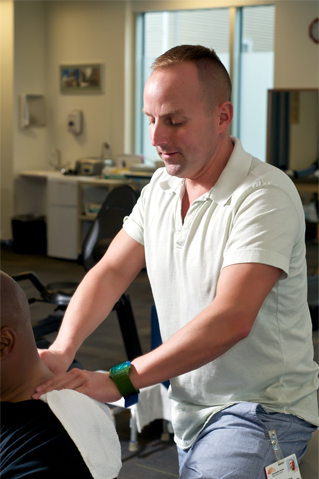 DotHouse Health offers physical therapy services on-site through a partnership with New England Physical Therapy Plus (NEPTP).
Physical Therapy is a practice that uses evaluation techniques to diagnose an orthopedic or neurological injury. Physical therapy utilizes a combination of rehabilitative exercises, manual therapy and modalities (heat/cold, electronic stimulation), to improve someone's functional capacity.
NEPTP provides services to those in need of rehabilitative therapy for injuries related to sports, medical conditions or accidents. NEPTP also offers aquatherapy in the DotHouse Health swimming pool.
Physical therapy can help address the following issues:
Auto and Work Injuries
Back and Neck Pain
Fall risk assessment and prevention
Fractures, Strains & Sprains
Hand and Foot Injuries
Neurological Conditions
Pediatric Conditions
Pre and postnatal Back Pain
Pre and Post Orthopedic Surgery
Sciatic and Disc Conditions
Sports Injuries
Tendonitis / Bursitis
Please click here to visit the NEPTP website: http://www.neptplus.com
To schedule a physical therapy appointment, please call 617-740-2415.
Department Hours:
Monday-Thursday: 7:30am -7:00pm
Friday: 7:30am – 12:30pm
Saturday: Closed
Sunday: Closed
FREQUENTLY ASKED QUESTIONS
Is physical therapy covered by insurance?
Physical Therapy is generally covered by insurance when a patient receives a referral from their primary care physician.
Do I need a referral for Physical Therapy?
No. You do not need a referral to receive physical therapy services. However, without a referral from your primary care physician, you will generally have to pay directly out-of-pocket for services.
Do I need to be a DotHouse Health Multi-Service Center patient to receive physical therapy services?
No. Physical therapy services are open to the community.
What should I bring to my appointment?
Please bring your insurance card, photo ID and a list of your current medications to your appointment.