Behavioral Health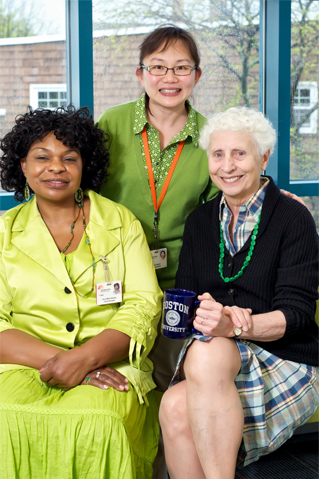 Welcome to the DotHouse Health Behavioral Health Department. We provide comprehensive mental health care services with respect and compassion for each individual's health and wellbeing. The staff of the Behavioral health Department is ethnically and racially diverse and we offer services in English, French, Kikongo, Lingola, Spanish and Vietnamese to patients between the ages of 4 to 70.
We offer counseling in individual, family, couples and group sessions. Disorders addressed by the Behavioral Health team include:
Anger Management
Anxiety
Depression
Grief
Major Mental Illness
Post Traumatic Stress
Substance Abuse
We offers group counseling for Anger Management, Domestic Violence and Severe Mental Illness. Additionally, we offer groups for Vietnamese women and men and Spanish speaking women with Depression and/or Anxiety.
There are clinicians and interns on staff. When the clinic is closed, there is an on-call clinician available to manage emergencies. Our clinicians hold the following licenses: M.S., CNS, LICSW, LMHC, LMFT, LCSW.
Patients, all of whom must have their primary care provider at DotHouse Health, begin treatment with an Intake/Evaluation appointment and are then assigned to a therapist. A patient must generally meet with this therapist for at least two appointments before they may be referred for a Behavior Health medication evaluation.
Please call 617-740-2212 to schedule an appointment.
Are you concerned about your child's behaviors, feelings and relationships with others? Click here to learn about the MYCHILD program offered at DotHouse Health.
Department Hours:
Monday: 8:00am - 9:00pm
Tuesday: 8:00am - 9:00pm
Wednesday: 8:00am - 9:00pm
Thursday: 8:00am - 9:00pm
Friday: 8:00am - 5:00pm
Saturday: 8:30am - 1:00pm
Sunday: CLOSED
Note: Our evening and Saturday appointments are very popular and fill up quickly.
Behavioral Health Providers