Farmers' Market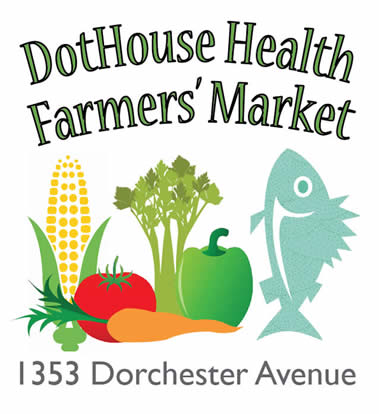 The 2023 DotHouse Health Farmers' Market runs seasonally every Tuesday from July 11th to October 10th, from 11:30am - 1:30pm (as supplies last).
For more information or if your interested in becoming a vendor, please contact BicPhuong Do at bichphoung.do@DotHouseHealth.org or call 617-740-2203.
We accept WIC, Cash, EBT, debit and credit cards.
The Market typically includes the following produce:

| | | |
| --- | --- | --- |
| Amaranth | Dill | Pea tendrils |
| Basil | Eggplant | Plum tomatoes |
| Beets | Garlic | Pumpkin |
| Bok choy | Green Beans | Pumpkin tips |
| Braising mix | Heirloom Tomatoes | Purslane |
| Carrots | Jalapeno peppers | Raddicchio |
| Chayote tips | Kale | Radishes |
| Cherry tomatoes | Lettuce | Red (bell) sweet peppers |
| Cilantro | Long string beans | Scallions |
| Collards | Mustard greens | Swiss Chard |
| Cucumbers | Okra | Zucchini |
Market Hours: