Benefits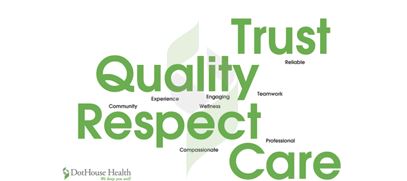 Why work here
Work is our community. It makes us care about the "community" that makes DotHouse Health grow. We want you to care about your role in this company the same way we care about you --after all our employees are the HUMAN resources here.
DotHouse is on the path to creating a renewed sense for its employees. We're characterized by Wellness and self-worth, positive Energy, team Commitment, Accessibility to anyone, Results from Everyone. In a word, WECARE. Join our team today and feel the difference of caring for our community.
Our community and our patients are our top priority. Thanks to the collaborate efforts of our employees, we strive to be the leaders of patient centered community based quality, and customer satisfaction year-after-year. Presently, we are searching for professionals who share our commitment to excellence.
Benefits
DHH offers a generous and broad benefits package. These benefits include:
<![if !supportLists]> <![endif]>Affordable and comprehensive Health Insurance

Dental Insurance

Fully sponsored Life, AD&D and Long-Term Disability insurance

A generous Earned Time Program (ET) with rollover accrual

Flexible Spending Account (MRA /DCA)

<![if !supportLists]> <![endif]>Participation in a 403(b) retirement plan

Clinical CPR certifications available on-site

<![if !supportLists]> <![endif]>Educational opportunities, both internal and external, including CME/CEU and conference days allowance for clinical staff

Tuition reimbursement plan for non-MD staff

<![if !supportLists]> <![endif]>Convenient access to public transit

Complimentary parking for employees

Access to a wellness/fitness room and state of the art pool

<![if !supportLists]> <![endif]>Discount program for amusement parks and movie theaters
As a Federally Qualified Health Center, DHH employees may be eligible for loan repayment programs like the
National Health Service Corps
, and the Mass League of Community Health Centers, among others. If approved, these loan repayment plans can provide up to $60,000 in loan forgiveness. Please research your individual eligibility, particularly if you are a Physician, Dentist, Psychiatrist, Nurse Practitioner (primary care), Physician Assistant, Psychologist (health service), RN, Licensed Clinical Social Worker, Psychiatric Nurse Specialist, or a Licensed Professional Counselor.