Community COVID-19 Testing Unit
The Community COVID-19 Testing Unit at DotHouse has testing hours Monday - Friday from 8:30am - 4:00pm. All COVID-19 testing is located in our Urgent Care, to the right of the main entrance (through the patient parking lot).

Please Follow Us on Social Media for the latest schedule changes:
Facebook: @DotHouseHealth, Twitter: @DotHouseHealth, Instagram: @DotHouseHealth

We are currently testing at a first come, first serve basis. If you plan on coming to our testing hours, we ask you please wear a mask and follow state social distance protocol while in line. If available, please bring your insurance card and photo ID.
Testing at DotHouse is at no cost to you. Please visit Boston.Gov for more information on COVID-19 testing centers in Boston.


Please note: The CDC currently doesn't recommend retesting for COVID-19 within 90 days of your positive test, because it is likely you will get a repeat positive. Once it has been more than 10 days from your initial test and you have no further symptoms of COVID for at least 24 hours you are considered no longer infectious.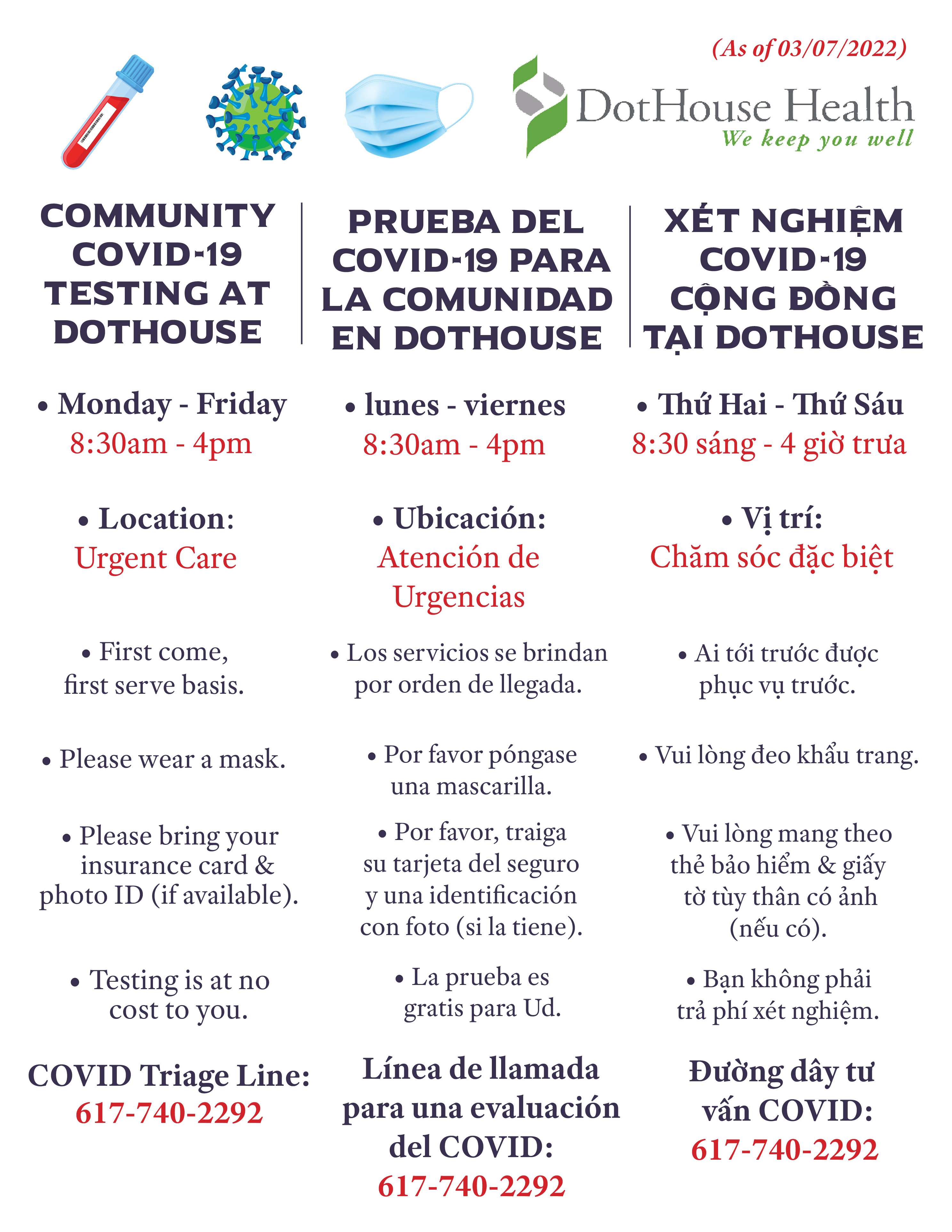 COVID-19 Public Vaccine Information (walk-ins welcome)


The COVID-19 vaccine is a major focal point in our battle against COVID-19 in our community. DotHouse wants to ensure that we provide our patients with the most updated information on the vaccine rollout.
DotHouse Patients and community members can now walk-in, on a first come, first serve basis, for the COVID-19 vaccine. Please call 617-740-2213 for more information. You may receive the vaccine regardless of your insurance status or ID.

Help protect older family members and receive your COVID-19 vaccination today at our public vaccine clinic at DotHouse. You do not have to be a DotHouse patient. Please invite your family and friends to attend! Walk-ins are welcome!

Vaccine Clinic Hours at DotHouse Health:
Mondays: 2:30pm - 4:00pm
Wednesdays: 4:00pm - 6:00pm
Saturdays: 8:30am - 2:00pm (every 1st and 3rd Saturday of each month)


The COVID19 Vaccine Clinic will be offering only Moderna.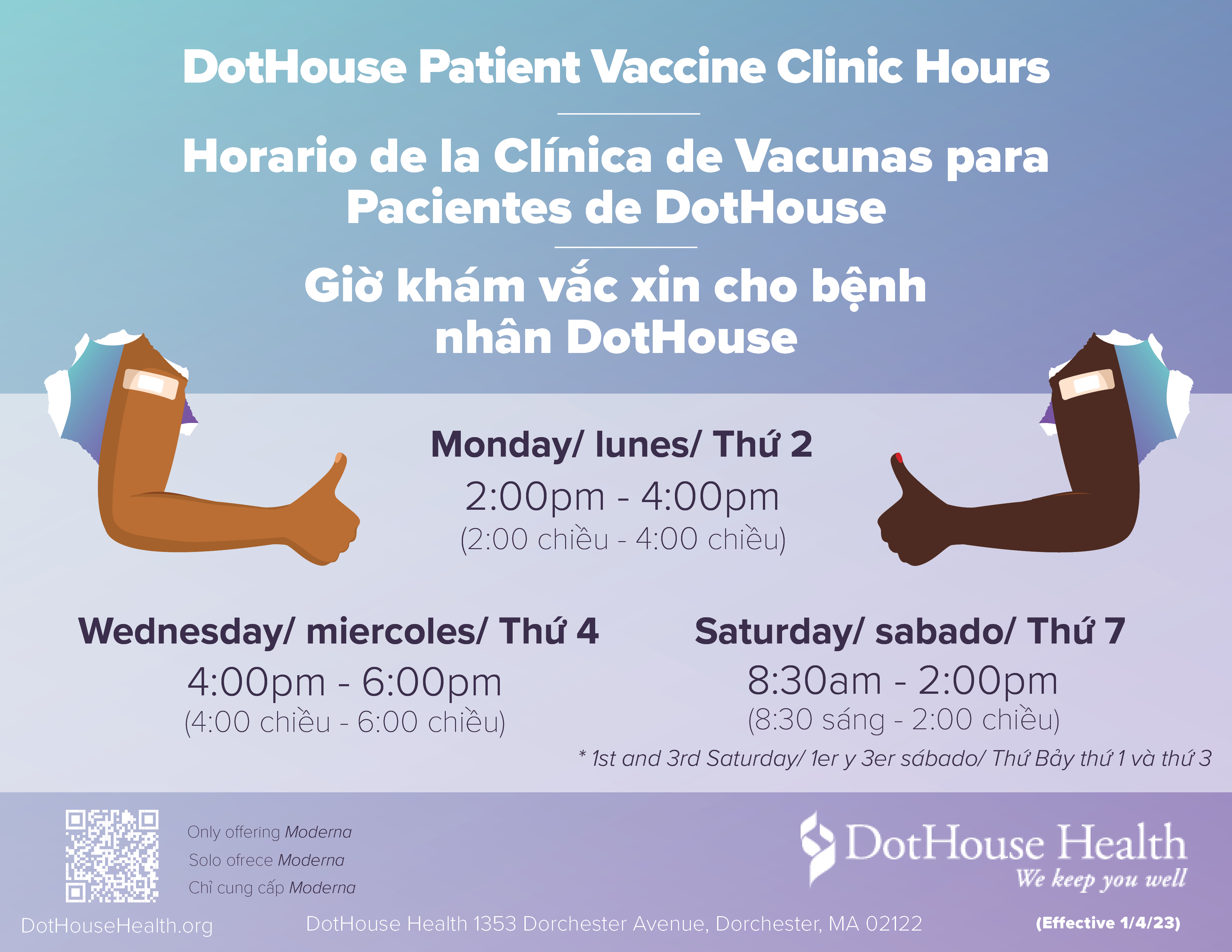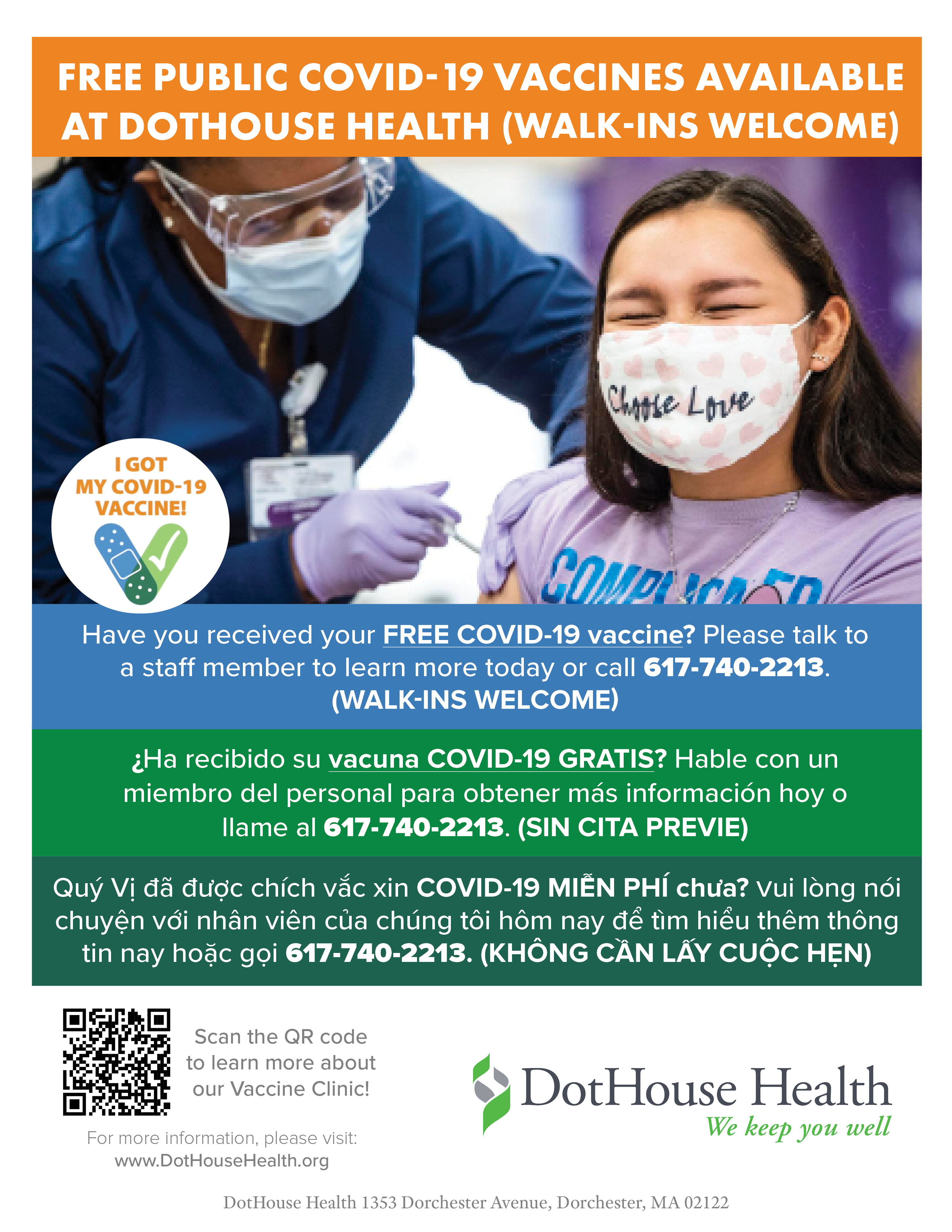 In addition to operating our vaccine clinic and COVID testing clinic, DotHouse remains dedicated in continuing our day-to-day operations across the health center and providing comprehensive and high quality healthcare in accordance with strict state guidelines to protect our patients and staff.


For more information, please visit the MDPH website: Mass.Gov/info-details/when-can-i-get-the-covid-19-vaccine.

Frequently Asked Questions for Patients
Am I eligible for a COVID-19 Booster?
- To determine if you are eligible for a COVID-19 Booster, please complete the eligibility tool on Mass.Gov: Mass.Gov/info-details/when-can-i-get-the-covid-19-vaccine.
Is DotHouse giving all available COVID-19 vaccines? Can I choose which I get?
- Dothouse currently only offers Moderna.
Some important things to keep in mind about the three vaccines:

- All of the available COVID-19 vaccines are highly effective and safe, and have been through a strict clinical review.


- The best vaccine to get is the one that is immediately available to you.

Can I get a letter from my doctor so I don't have to get the COVID-19 vaccine?
We are not able to provide medical exemption letters for COVID vaccination requirements because there are no medical reasons not to be vaccinated and protected against COVID-19. According to the CDC, even if you have already received one dose of an mRNA vaccine (Pfizer or Moderna), had a severe allergic reaction from the vaccine, and cannot receive a second dose, you may still be vaccinated with the Johnson and Johnson COVID vaccine to become fully immunized and protected against COVID illness and death.

What are the side effects of the COVID-19 vaccine?
- It may hurt a little where you got the shot. You may also be tired, get a fever, and have head or body aches. These side effects are good! They are signs that the vaccine is working and your body is building immunity. Very rarely, a person has an allergic reaction to the vaccine right after getting it. To keep these people safe, healthcare providers have patients wait 15-30 minutes before leaving the vaccination area.

Can the vaccine give me or my family COVID-19?
- No. None of the COVID-19 vaccines being used in the United States have live viruses, so they can't give you the disease. And because you won't have the live virus, you can't give it to your family.

How does the COVID-19 vaccine work?
- The vaccines contain genetic instructions to make a small piece of the virus called the spike. Getting the vaccine trains your body's immune system to recognize the spike on the surface of the virus and to kill any viruses with it.

How can a safe vaccine be ready so quickly?
- For two main reasons. First, because of the pandemic, scientists all over the world cooperated on a single goal: find a vaccine as quickly as possible. Second, the U.S. government paid drug companies a lot of money—over $12 billion—so there was no financial risk for them to develop the vaccine. That meant that scientists could start each of the 4 stages of testing as soon as there was safety data from the last one. Creating new drugs is very expensive, around $1.3 billion per drug, so companies usually wait after each stage to figure out if the drug will pay for itself.

I don't trust the government to give me health information.
- Talk with your healthcare provider about your concerns and ask them for alternative sources of health information. Medical associations, nonprofit organizations, community groups, and universities all provide good online COVID-19 vaccine resources.

If I get the vaccine, will I be part of an experiment without my consent?
- By law, no one can include you in an experiment without explaining the study and getting your written permission. The laws were passed in the 1970s after some shameful history. In the 1930s, the Tuskegee Project signed up 400 Black men with syphilis, telling them they would get health services. They didn't tell them they were doing research to see what happened when the disease was left untreated. In the 1950s, in Puerto Rico, poor, young women were given birth control, but not told about the possible side effects. The laws that now protect human subjects require researchers to tell people what they are doing and get their informed consent. They also require that special committees review every study.

Does the vaccine have something in it to track or control people?
- The COVID-19 vaccine does not stay in your body, so there is nothing in it that can track or control you. Getting the vaccine trains your body's immune system to recognize a spike on the virus and kill any viruses with it. In that training process, all the original material from the vaccine is destroyed. To make sure residents stay healthy, Massachusetts does keep track of all immunizations in a confidential database. By law, only healthcare providers and public health officials can see it.

I don't need a vaccine. My immunity is already strong, or I use natural remedies.
- It's great that you are already healthy. But COVID-19 is a new virus that your body hasn't encountered before. Getting the vaccine will train your body's immune system to recognize and kill it if you are exposed.

I don't need a vaccine because for most young/healthy people, COVID-19 isn't very serious.
- Some young and healthy people have very serious cases of COVID-19 and can even die from it. Others don't even realize they have it. These people are actually the ones who spread COVID-19 the most. Scientists think about 60% of cases are caught from someone without symptoms. So even if you are young and/or healthy, getting the vaccine will stop the virus from spreading to others, including older family members and those with health conditions.

Does the vaccine stay in my body?
- No. The vaccine trains your body to recognize the virus and kill it. In that training process, all the original material from the vaccine is destroyed.

How long will immunity last?
- Scientists don't know yet. It may be a couple years. If this is the case, people may need to be vaccinated every year, as is done with influenza.

I already had COVID-19. Do I still need the vaccine?
- Yes. You can get infected with COVID-19 a second time. Scientists still don't know how long natural immunity lasts. So it is safest for you and your loved ones if you get vaccinated. Please note that if you were treated with monoclonal antibodies or convalescent plasma, you should wait 90 days before getting the vaccine.

Who pays for the COVID-19 vaccine? What if I am uninsured?
- All residents of the United States are entitled to free COVID-19 vaccination. As part of its payments to drug companies, the U.S. government bought millions of doses of the vaccine and will buy many more. Whether you have private insurance, public insurance, or no insurance, you and your family can get vaccinated against COVID-19 free of charge.

FAQ Resources:
 • Mass League of Community Health Centers - COVID-19 Vaccine Common Questions & Concerns
- English (PDF)
- Spanish (PDF)
- Vietnamese (PDF)

 • CDC: https://www.CDC.Gov/vaccines/covid-19